When Making Waves executive producer John Webster was planning to film a segment at the Harbor Shack in Rock Hall, Maryland on a Tuesday night, there was just one problem. The Shack didn't feature live music on Tuesdays, but the show's script called for a lively Saturday night feel.
With just three days to go before shooting, Webster spotted a local band playing cover tunes and asked their lead singer if he had any original songs.
Tad Jones
stepped to the microphone and the band broke into "Simple and Free", a proclamation of middle-age independence. The song was conceived by Jones while he was learning to surf with his longtime friend, Deloy Moore. The lyrics reflect on the years Jones spent in a job and a lifestyle that didn't really fit him, while he yearned to live a life that was simple and free.

...
Webster knew immediately that the song he was hearing captured the free-spirited vibe of the show, so he booked the band for the Shack segment on the spot.
That night, the band also played another Tad Jones original that had become a local crowd favorite, their raucous ode to the pirate life and island libations, "Do They Have Rum".
Webster had found a band for the Shack segment, but he still needed a theme song for the series— and the more he thought about it, the more he liked the idea of "Simple and Free" as his theme song. Tad was on board with the idea, but there was another problem. Jones and his band mates had never recorded the song.
Enter Jack Gorton, the show's director and an LA music business veteran with connections to the recording industry. With Gorton's help, Webster booked the band into a recording session at the
Bamboo Room Studio
near Cincinnati.
Recording in the Midwest might seem like an unusual choice, except for the fact that the Bamboo Room is a new facility run by Erwin Musper, the brilliant Dutch engineer whose client list has included the likes of David Bowie, Van Halen, Def Leppard and Bon Jovi. In fact, Musper's name appears on over 80 million albums— so far.

(front) Jack Gorton, Erwin Musper, (2nd row) Tad, Deloy, John Webster
(back) Wayne, Kagan and Chris at the Bamboo Room
In a single day— with Tad on vocals and guitar, Kagan Nuss on keyboards, Deloy Moore on dobro, Chris Foltz on drums, Wayne Poore on bass and Gorton producing— Musper recorded tracks for three songs: "Simple and Free", "Do They Have Rum" and "Chesapeake Bay", a moving ballad that Jones had written especially for the project.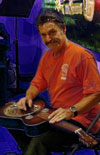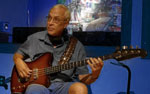 (clockwise from top) Kagan Nuss, Deloy Moore, Chris Foltz, Wayne Poore
Gorton then took the project to LA to record additional tracks. Rocky Griséz, coming off two recent Grammy-nominated projects, engineered and mixed the final recording. It was Griséz who brought in legendary latin-music arranger
Erich Bulling
to create the brass parts for "Do They Have Rum".

...Sal Cracchiolo
Longtime Poncho Sanchez trumpeter
Sal Cracchiolo
, sax player Albert Wing and percussionist Walter Rodriguez brought the Latin flavors to life.

...Walter Rodriguez
Hip-hop and R&B hitmaker Dominic "DomWan" Durham (Cheetah Girls, Brandy, Alicia Keys) recommended his sometime collaborator, dance-music singer/songrwriter
Ebony Burks
for the 'island temprtress' vocals on "Rum". Burks' other collaborations have included projects with the Dixie Chicks, Toni Braxton and Timbaland.
...Mark Romano
The tasty guitars on all three songs were played by Mark Romano, whose mastery of that instrument is matched only by his accomplishments as a world champion gunslinger. As his alter-ego
Frederick Jackson Turner
, Romano is rated as one of the world's top cowboy action shooters.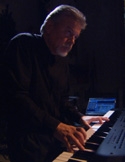 Denny Bouchard
Arranger and producer Denny Bouchard created the stunning string arrangements and violin solo on "Chesapeake Bay".
Chris Roy and Mark Romano's brother Peter Romano added additional bass parts for "Chesapeake Bay" and "Do They Have Rum".
The resulting Simple and Free EP not only provided a soundtrack for the first show, but it also showcases a genre-busting sampler of what Tad Jones likes to call "Island Country".